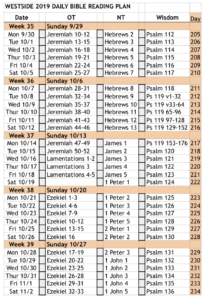 Read Through the Bible this year!
The plan is a

6-day reading plan

, Monday through Saturday. Sunday's are available for catching up, or for taking a break.
First,

there is a passage of the Old Testament to read on your own each day. God gives us a progressive revelation of Himself starting in Genesis through Malachi.
Second,

there is a chapter each day in the Wisdom books, (Psalms, Proverbs, Ecclesiastes, Song of Solomon, and Job)
Finally

, there is a chapter each day in the New Testament that we are wanting to read together as a family and meditate and discuss. The single chapter-a-day format in the New Testament is on purpose for meditation and discussion. Small sections to meditate on and let the Lord reveal himself in greater ways.