About Us
WESTSIDE CHURCH

is a non-denominational Christian church located in

Chula Vista, CA.
Service Times
Sunday Gathering @ 10AM
(English in the Sanctuary; Spanish in the Chapel)
Wednesday Night Study @ 7PM
(English in Sanctuary; Spanish in Foyer)
Mission
Our Mission is to fulfill the

Great Commandment

and the
Great Commission

by building up the body of Christ through "equipping the saints for the work of the ministry" (Ephesians 4:12), and to call everyone everywhere to become followers of Jesus Christ.
The Great Commandment
And he said to him, "You shall love the Lord your God with all your heart and with all your soul and with all your mind. This is the great and first commandment.
And a second is like it: You shall love your neighbor as yourself."
– Matthew 22:39 (ESV)
The Great Commission
And Jesus came and said to them, "All authority in heaven and on earth has been given to me. Go therefore and make disciples of all nations, baptizing them in the name of the Father and of the Son and of the Holy Spirit, teaching them to observe all that I have commanded you. And behold, I am with you always, to the end of the age."
We exist to love God and love people in the

Simplicity

,

Sincerity

, and

Sufficiency

of

God's amazing grace.

SIMPLICITY
"For we conducted ourselves in the world in simplicity…by the grace of God…"
Jesus came and lived in simplicity and genuine sincerity. Our goal as a Church is to live out the simplicity of the gospel every day in our community and the world. We love each other and serve each other in the grace God supplies.

SINCERITY
"For we conducted ourselves in godly sincerity…by the grace of God…"
We work together to demonstrate a sincere and pure love as modeled in the Gospels by our Lord, Jesus Christ. We believe that sincere love lived out in the truth of the Bible, will impact our community and the world.

SUFFICIENCY
"And God is able to make all grace abound toward you…always having all sufficiency in all things…"
We believe God's grace is sufficient to enable the church to fulfill it's mission in the world. We trust God's grace to enable us to live and love like Jesus as we share God's love in our community and the world.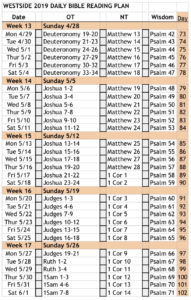 Read Through the Bible this year!
The plan is a

6-day reading plan

, Monday through Saturday. Sunday's are available for catching up, or for taking a break.
First,

there is a passage of the Old Testament to read on your own each day. God gives us a progressive revelation of Himself starting in Genesis through Malachi.
Second,

there is a chapter each day in the Wisdom books, (Psalms, Proverbs, Ecclesiastes, Song of Solomon, and Job)
Finally

, there is a chapter each day in the New Testament that we are wanting to read together as a family and meditate and discuss. The single chapter-a-day format in the New Testament is on purpose for meditation and discussion. Small sections to meditate on and let the Lord reveal himself in greater ways.
Kinder through 5th Grade Children's
M
inistry
Westside SideKicks is our Kinder through 5th Grade Children's Ministry here at Westside Community Church. Pastor Rick Handloser heads up this wonderful ministry and the kids love it!
The theme of our kids ministry is
"Westside Sidekicks."
Jesus is the Superhero, and we are called to work and serve alongside him using his power and his superhero strength to fight the fight of faith.
Your kids will love Westside Sidekicks Children's Ministry.
Men's
Ministry
WHY? The Men's Ministry is provided to give men a place to connect and build friendships, as we challenge each other to follow Christ with all of our "heart, mind, and strength."
WHEN? We have a monthly Men's Breakfast each third Saturday at 8AM. Please join us as we gather to consider one another.
WHERE? At the church, 560 Palomar Street 91911
(See the calendar for more information)
"Iron sharpens iron, and one man sharpens another."
Proverbs 27:17
Women's Ministry
WHY? The Women's Ministry desires to meet the needs of our body and community through prayer and fellowship.
Our desire is to go deeper; to learn to be Women saturated in Jesus and to truly hear His voice.
WHEN? We have scheduled Bible study and fellowship gatherings at various times throughout the year. Additionally, we serve at Birthline of San Diego County every 2nd Saturday of each month from 8-12AM.
WHERE? Women's gatherings happen at the church 560 Palomar Street 91911 (see calendar for scheduled meetings).
Women's Home Group meets on Mondays @ 1PM (see calendar for schedule).
Women's Birthline ministry is at
1220 Third Avenue, Suite 1, Chula Vista CA 91911 (2nd Saturday of the month – 8AM)
"I pray that from His glorious, unlimited resources He will empower you with inner strength through His Spirit. Then Christ will make His home in your hearts as you trust in Him. Your roots will grow down into God's love and keep you strong." Ephesians 3:16-17
Westside Homeless Ministry
Westside Community Church is proud to be a partner with the City of Chula Vista's Homeless Outreach Team (H.O.T.) which works in cooperation with the Chula Vista Police Department, City Services, and County of San Diego Social Services, to give a "hand up" not a "hand out." We strive to help homeless persons to get off the streets and into shelter and programs that help them make life changes for themselves. We are privileged to have two independent ministries connected to our church,
Project 1:1 and Community Through Hope.
Audio/Visual Ministry
The Audio/Visual Ministry uses technology to help Westside Community to worship. Using audio skills at the sound board, or creating and displaying lyrics and verses in the services.
If you would like to help serve, please let us know.
Online Giving
Church Information
Email: WSCC@westsidecv.com